ACTUAL:
CHEAPART
#CHEAPART85TIF
Thessaloniki International Fair
September 11. – 19.2021
Series Alpha and Omega, ICW, 2021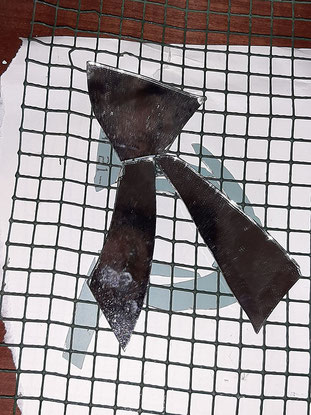 The series Alpha and Omega by Isabel Czerwenka-Wenkstetten ICW develops from the former work.
In this works now, developed in the last two years, she deals with the topics of life, thriving in specific frameworks- and death. Death from which rises and is intrinsically connected.. life and fresh striving.
Like in former works, a strong aspect of ICWs works is the getting in touch, perhaps the confrontation or alignment with oneself and the surrounding world, appearances, always changing, that are physically reflected in the symbolic signs of the mirror designs.
Latest exhibition:

Performance: Isabel Czerwenka-Wenkstetten/ICW
Photography: Christian Rupp

in the context of the exhibition "La Promenade"

23rd – 27th June 2021
at WSB - Studiogalerie WUK
Ongoing Project:
"foreign affairs-arts alliances AUSTRIA – INDIA"
A project from Isabel Czerwenka-Wenkstetten/ICW
Presentation:
on 27th of October2020, 7 pm

Venue: WUK, courtyard WSBStudio
Währinger Straße 59, 1090 Vienna
Opening: Ambassador Jaideep Mazumdar (Embassy of India in Vienna)
During the project ICW (AUSTRIA) got in touch with the Visual Artsists, who are living and working in INDIA: Vibha Galhotra, Shilpa Gupta, Mithu Sen
Ongoing Project:
"growing" - An Exhibition-Event from Isabel Czerwenka-Wenkstetten and Ulrich Gottlieb
The exhibition event growing is a work in progress dedicated to the topic of growth and development and thriving. A closer look is taken on growing processes at different levels and in various areas in order to open an experimental space in the context of the phenomenon of growth increasing the transparency of unfolding and development. An invitation to the audience to investigate growing processes in a creative community-building process.
Dates of exhibition:
"growing!" #2: 10.12.2019 – 23.12.2020, AKH Contemporary, Vienna
Ongoing Project:
"hooked and looped" - Performance by ICW

The artist ICW moves through an audience, looking, being a spectator herself. ICW search for and chooses objects of prestige and/or symbolic from the person she looks at. She collects the objects she got with hook and loop fasteners on her skin-colored body suit. Loaded with these objects becoming bulky her movement is slowed down. In further consequence ICW starts to put aside thing by thing. Returning to become a human being in his/her nature. Naked facts.
Dates of Performance:
29.04.2018, Mana Contemporary, Jersey City New York (USA)
Ongoing Project:
foreign affairs-arts alliances - an intercultural art-collaboration project by ICW
Ongoing Project:
Golden Reframing - Art-works with mirror pieces, wire frames, silicone and 24 carat gold.
The sizes of the art-works vary between two-hand-size and human-size. Indoor and Outdoor.
with special thanks for the cooperation: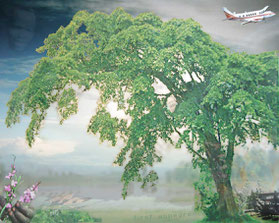 SPECIAL WORKS FOR SPECIAL PEOPLE
Commissioned Works
The special people in this series are always the clients.  And the work elaborated for the clients is conceptualized and realised especially for their inner and exterior space situation.
The work consists of three parts: The digital photo collage with arylic and oil color, a photography of the room situation without the collage and a photography of the room situation with the collage.
shown here:
Con_text, ICW, 2006
one of three printings. Digital Photo Collage made of private and dicretionary photographies, 20 x 30 cm
Find here more information about the project >>> 
Are you interessted in a work especially made for you? I´m looking forward to a message from you: icw@isabel-czerwenka-wenkstetten.com